Doesn't matter on which side of the planet you live; if you're into riding and especially scootering, you must have heard of Trybeo and about these new scooter challenges that spread like wildfire.
Remember the last time that you went to the skatepark and saw kids filming when others were doing tricks? Well, there's a good chance that the videos were made for Trybeo challenges.
But what are challenges? They are photos or short videos (< 15 sec) that people post on the app. The difference with Instagram or Snapchat is that people can compete with each other by doing the same trick.
So when Owen starts the #Doublewhipscooter challenge, not only does he show his skills to people but he also dares the Trybeo community to accept his challenge.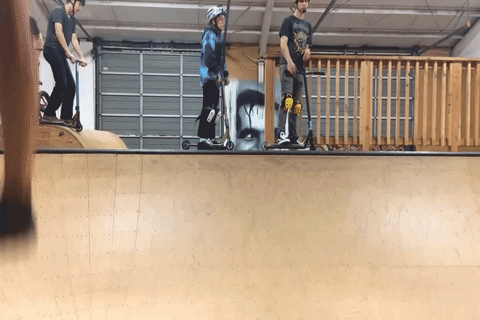 If at least one person accepts it within 48 hours after he launched it, then the challenge will stay on the app and more people will be able to do it. If not, Trybeo deletes the challenge automatically which keeps the app full of content shared by several people.
More than disappearing challenges, what Trybeo has that other social networks don't is the competition. In fact, people give upvotes to their favorite challengers which seems really like the "likes" that you give on Facebook or Instagram. But the distinction is that upvotes give participants a ranking in the challenge. Therefore, the challenger with the most upvotes will be ranked first and be considered the best at the specific trick or activity.
And there are not only playful competitions! Trybeo organizes what they call "contests" which are challenges sponsored by brands (most of them are scooter brands right now). These contests only last one week and at the end reward the 3 best challengers with prizes. From wheels to complete scooters, the rewards can be worth hundreds of dollars and attract more people contests after contests. People ask for upvotes anywhere they can: family, friends, classmate, you name it. Some people even create Youtube videos or do live streams to let everyone know that they participate and that they need upvotes.
Even the biggest scooter influencers participate in these contests now which make the competitions very interesting to watch. Jon Reyes, Stephen Garlatta, Matty Ceravolo, …, they are all using the app to either push their followers to follow their lead and do their new challenges or just to take part in existing challenges and contests for fun!
For now, Trybeo is becoming the #1 app for scootering but we see a big potential for other sports where challenges can help people show their skills and compete with others sharing the same passions.
Time will tell where Trybeo will go next but something is telling us that this is just the beginning!